led by Blaze, Alta, Charge 2 and all the others have a lot to offer you; how do you get the best out of them? The companion smartphone app for Fitbit, whether dedicated to Windows, Android or iOS qualifies them as the best and most inclusive fitness trackers in the market. Even when not looking at your Fitbit fitness tracker, the app has a simple layout through which you get to view a variety of fitness information.
Get extra health info
For additional health information, there exists a number of third-party apps support offering more data insight. You are able to connect your Fitbit app to a host of varying apps to achieve a more comprehensive outlook of daily health.
How to locate the apps easily
To gain access and use of these third-party, simply head to your accounts and scroll until you view compatible apps. Clicking on this will avail to you all the apps which can be used alongside your Fitbit companion app.
Here are among the most intuitive Fitbit friendly apps worth checking out;
Blaze comes with a dedicated fitness platform, FitStar, specially tailored to create personalised workout regimens including yoga. This is the only, among many Fitbit trackers, offering you clear step-by-step workout plans through its screen. The app will also be used alongside all other trackers as long as it is linked to the accounts. The data synchronises with the app to provide you with structured workouts.
Rated as one of the all-time-best calorie counting apps, MyFitnessPal; pairing this with Fitbit's food logging features is a really ingenious way of getting the most out of these apps. Your daily calories goal will be more accurate. Once you have this app installed, you have countless options on how to beat the eve-elusive calorie count.
MyFitnessPal dutifully updates you calorie goal each day, enabling you to meet your targeted weight loss or gain as per your schedule.
Weight Watchers
Are you out to losing your weight with Fitbit? You probably are a member of Weight Watchers! An ingenious partnership both in the UK and the US makes it possible for you to convert your entire Fitbit's activities into SmartPoints (Activity Pro Points). Weight Watchers also has a license to sell all Fitbit activity trackers in its stores online.
Strava's compatibility with Fitbit is all about ensuring you don't lose any of your fitness data; truth be told, there are many parameters you may wish to monitor and it's all a bit confusing. Strava is your personalised wearable favourite whose logged runs will be directly fed to your Fitbit statistics such as active minutes and the burnt calories.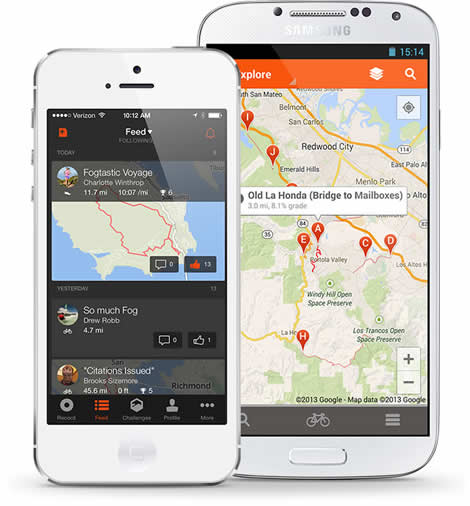 By connecting the two, Fitbit's activities will automatically show up on your Strava! Other apps working in a similar way are Endmondo and Runkeeper.
Your brain is an integral part of your entire body's fitness composure; Luminosity is an app whose purpose is to trains the mind to be more healthy, implores a healthy body mantra and in the process sharpens your memory as well as increasing your brain's speed of solving complex problems. When used alongside Fitbit, you are able to see your steps count contrasted against Luminosity games you've engaged in for well over 90 days.
By viewing these activities simultaneously, you are in a position to determine whether our daily activities directly translate in a speedier and more impactful brain; within no time, you'll realise a spike in your brain power!
MyNetDiary Calorie Counter
This application helps you make the right decisions with regards to your diet; the food choices are its area of expertise. To measure the number of calories eaten and those burnt throughout the day, this app tracks a wide range of data from your Fitbit including your body weight, step count as well as average heart rate; this is if you use a Blaze, Surge or Charge HR.
The nutrients and food calories will consequently appear on your Fitbit app.
Amazon's Alexa is your voice assistant that tells you anything and everything you want to know. When paired up with Fitbit, you get to enquire about activities such as your sleep pattern and yesterday's activities. While at it, Alexa will give you audio reminders of activities you should be engaging in; a pretty neat and utterly smart virtual voice assistant.
With more than one Fitbit wearables around your house, Amazon comes in handy as it virtually syncs all of them together and ensures you concentrate more on your routines rather than scouring through endless data. Simply amazing!
Nudge Health Tracking
Does the flood of data coming from all the fitness trackers prove too much for you to handle? Nudge is here to simplify all this for you. It is equipped to store multiple data from apps as well as wearables such as Strava, Runkeeper and obviously Fitbit. Nudge then gives you a single factor score, maintaining competition against all other users.
If you connect it with your Fitbit, you are able to send personal categories like energy, sleep and beverages to the Log section; this tracking data makes all the difference in fitness tracking.
Wokamon Monster Walk Quest
If you find walking boring, this is one way to make it more interesting. Anytime you walk with this app on, your virtual monster grows larger and more menacing; it is the Tamagotchi for Fitbit! The larger your virtual monster grows, the more virtual pets are released at each level for you to grow even larger. You will soon prefer walking to the shop rather than ducking into your car each time. The motivation will not only help you reach your fitness goals faster but also form an unbreakable habit.
Under Armour Record
Even without purchasing the Under Armour Band, you still get to use its app and better still, pair it with your fitness tracker app. It is able to access data from MapMyFitness, MyFitnessPal and Edmundo. With it, you also get to store step data from your favourite Fitbit as well as be fed with weight measurement data from the app or Fitbit Aria smart scale.
Fitbit clearly has a lot in store for you considering all its compatibility features. Which app(s) appeal to you most? Our comment section can't wait to sample your thoughts!