Bose Q35 Wireless Headphones
The Bose QuietComfort 35 headphones (the QC35) are the successor to what we guess practically the highest quality level for premium noise cancelling headphones now which is the Bose QC25.
The QC25 has been our favourite choice to be used for train rides and flights for the past couple years so naturally when you get a successor to them you have to wonder what's different about them and are they worth the difference in price?
On Amazon, at this moment the QC25 are $300 and the new QC35 are $350, now while shopping for a truly premium noise cancelling headphones you have to search for a few things…build quality, comfort, sound quality and obviously how great the noise cancelling really is.
Hardware quality
The build quality is just fine here it's nearly identical to the QC25 they're pretty overall lightweight pair of plastic build headphones pretty flexible and that's actually what makes them so comfortable, they're so light and flexible and along with the super soft foam on the top band and super soft leather ear cushions that go over your ears all this combines together to make them really comfortable.
If anything QC35 is just a little bit heavier than the QC25 since there's now a small rechargeable battery but you probably won't notice that so wearing these headphones for long periods of time like a long flight is still no problem. Comfort is a huge plus for these wireless headphones.
Now since they are wireless headphones you do have a couple of things to worry about and those are the controls and battery life.
Controls
Controls have moved from the inline wire the QC25 to buttons on the back of the right earcup and are all the same so the play pause controls the volume up and down skipping tracks etc…
they're all pretty tactile quality buttons which are important when you're pressing them blind and battery life is also top of the line now I've only had these wireless headphones for past week or so but the 20-hour active battery life seems to hold up.
Battery life
Every time you turn the headphones on, it tells you when Bluetooth is paired and it also gives you the battery percentage of what's left, so when I turn it on last I had 63% so I feel like I can finish out the rest of the week with a lot more heavy listening on these wireless headphones and not have to charge until the weekend .
so that's good and I feel like if you can listen to a pair of wireless headphones for the entire week and charge it once a week with a lot of heavy listening you pretty much don't have to think about it that much so better life is another strong point with these.
Sound quality
The sound quality is pretty much exactly the same as the QC25 which is pretty good but nothing spectacular, these wireless headphones sound great for the purpose purchased for.
you aren't buying these to monitor for music production or anything like that they're obviously very vibrant and sounds awesome and I put them on par with other $200 to $300 headphones in terms of clarity and detail but again it's wireless headphones so that's nice!
QC35 wireless headphones actually come with a wire in the Box on the bottom of his headphones you have a micro USB charging port on the right cup and yes you do get that mini cable and a 3.5 millimeter headphone jack on the left cup and that wire is included to either plug it into something that doesn't have Bluetooth and just listen to it like normal headphones or plug it in and use the headphones without noise cancellation.
So if you just want regular listening with no noise cancellation you have to do it Through the Wire but you can't do it wirelessly.
Noise cancellation
and then the noise cancellation itself, Bose are knowing to do noise cancelling headphones pretty much better than anyone else, is kind of what they're best at!
All those microphones all around the outside of the headphones is to pick up outside noise and frequencies and just cancel them out so if you heard Bose noise cancelling headphones before you know exactly what I'm talking about it's great for flights it's great for loud environments such as trains or buses, basically any time you would like to cancel the outside world and just hear your audio and your music isolated, I mean that's why you buy noise cancelling headphones in the first place.
Final words
so I'm glad to say that Bose has put together a complete package here with the QC35 to replace the QC25 they even have a built-in NFC for quick Bluetooth pairing by tapping into your Android phone as convenient.
and there is the carrying case as well which pretty similar to the QC25 since they fold the same way but it carries extra cables now which is ideal for traveling and just tossing your
noise cancelling headphones in a bag or backpack or something, also included the flying adapter too since I know the people use these a lot on planes.
so coming back to that price difference basically if you want to have specifically noise-cancelling wireless headphones then you have to pay the extra 50 bucks to go with the QC35.
but if you just want noise cancelling headphones and you really don't care about the convenience of having any wire then this is just fine the QC25 are functionally pretty much exactly the same as a QC35.
wired slightly shorter battery life single AAA battery also has and 50 bucks cheaper for the QC25, that's a breakdown bottom line is if you're looking for noise cancelling headphones in general and a premium to the $300 price range you should have these on your short list.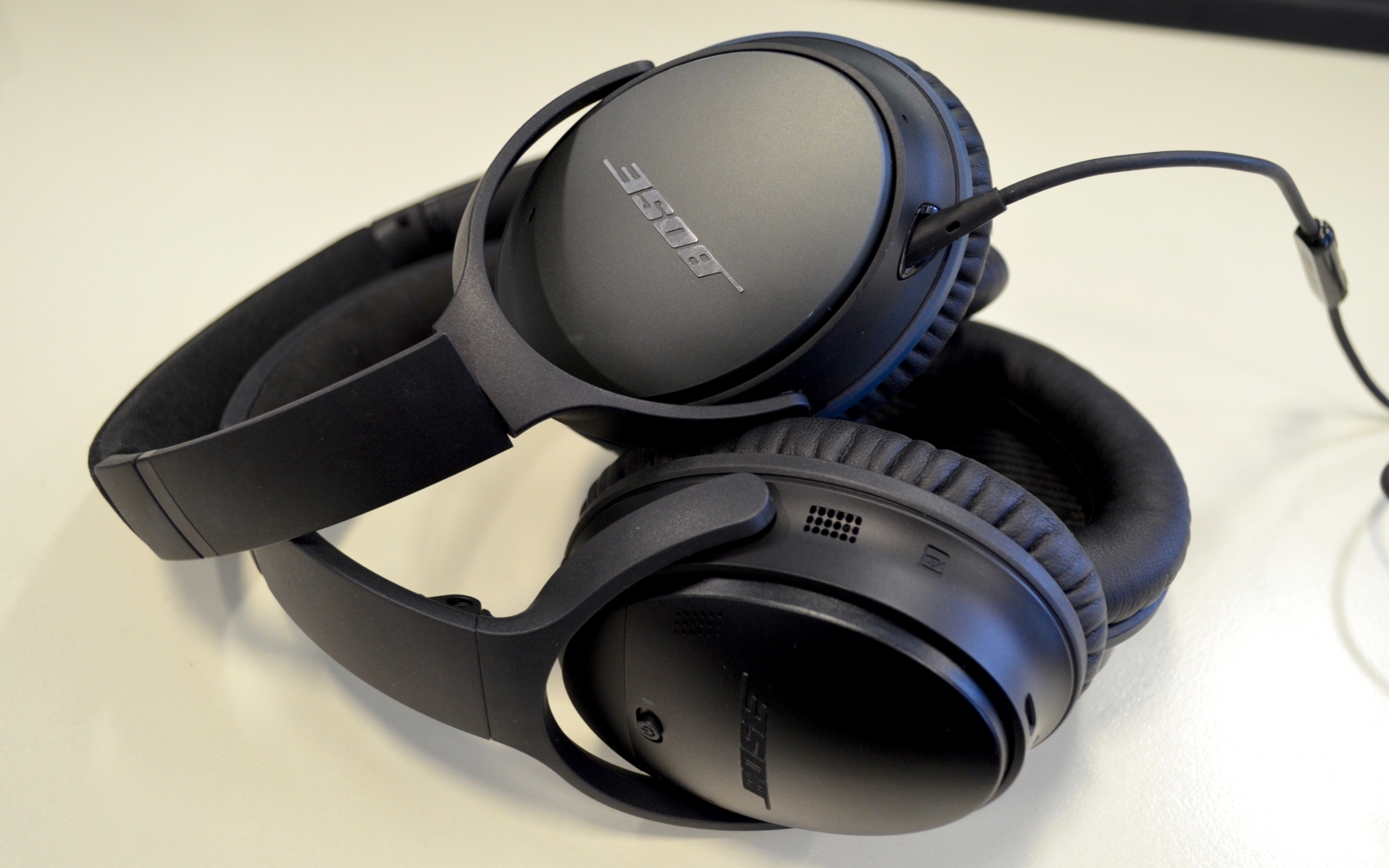 Personally
I know personal I had to go with the QC35 for the convenience of having no tangled wires attached to my gadgets.  And I always think to myself if I paid the $300 the $350 isn't that bigger step for the latest in noise cancelling headphones.