Which Fitbit to buy?
With today's fast-paced lifestyle, activity trackers are not only popular, but also a great way to motivate you towards a healthier lifestyle. Practical, easy to use and affordable, activity trackers come in a variety of shapes, sizes and features.
Best Fitbit Apps to Spruce up Your Tracking Game.
One of the most popular wearable tech brands of 2017 is Fitbit that brought us a whole range of new products this year, making it hard for you to choose the best model fitted for your needs.
With its well-known design, the variety of Fitbit activity trackers keeps getting bigger and bigger, offering everything from simple and discreet pedometers to colourful wristwatches.
As too much choice can sometimes be as daunting as not enough choice, we bring you the differences and suggestions on all available Fitbit models currently on the market.
Fitbit One
One is a small clip-on activity tracker with a lovely (though a bit retro) design. Perhaps a bit more attractive for women, this gadget is small and perfect for bras a t-shirt. The small OLED display shows you all the necessary information – steps, calories, distances, the number of stairs climbed, time and date, and is also equipped with a sleep tracking feature.
This model is quite basic but very easy to use and requires charging every two weeks.
It comes in black or pink, and like all the other models is connected to an app that shows you the progress. Price is $99.95. Choose One if you prefer a clip-on instead of a watch, yet you do not want just a simple pedometer, but an activity tracker with a wider array of functions like sleep tracking and a number of stairs climbed.
Fitbit Zip
Zip is quite similar to One, as it is also a clip-on activity tracker that counts your steps and monitors your calories and distance, along with telling you the number of your active minutes for the day. This model is a bit cheaper, with the price being $59.95 and has no altimeter or sleep tracking. It is synced via wireless to your phone and comes in a variety of colours.

Zip has a large tap display to easily browse through your stats. Battery life is excellent (mostly due to the lack of some more advanced features) and lasts without charging up to 6 months at a time. Choose Zip if you want something small, practical, without a lot of fiddling and frequent charging.
Charge 2, with its elegant and recognisable design, offers a large variety of features. By adding features such as guided breathing, sleep tracking, cardio fitness level, Fitbit truly took a step ahead with this model. It is a smartwatch with a lovely display (smaller than the Surge, but larger than Alta) which offers quite a lot of information and stats. It monitors your heart rate, cardio fitness level, offers guided breathing sessions, has an auto sleep tracking option and a reminder to move along with the basic fitness tracking features such as pedometer, calories and distance reading.

Available in a variety of colours, pricing starts at $149.95. Charge 2 is perfect for users that want a high-quality tracker that has a lot of features and can be personalised. It is also a great choice if you want a smartwatch that shows you calls and messages.
Fitbit Alta
Very stylish, but simple, the Alta model is an upgrade to Charge and Flex (older Fitbit trackers) that offer a high level of customization options along with the standard activity tracking features (steps, calories and distances) and sleep tracking. It is a beautifully designed smartwatch that also shows you calls and messages but doesn't have all of the feature Charge 2 does.

It does, however, come in a lovely variety of colours with a tap display and a smart track feature, meaning it automatically understands when you start exercising. Starting at $129.95, it's not the cheapest option but is has an amazing design and special editions are available in a black-gold or pink-gold combo. Buy Alta if you want a stylish device that keeps things simple, but gives you all the information you need while on the go.
While covering all the basics, it uses the smart track feature like Alta to automatically recognise and track your exercise (that includes running, cycling, walking and aerobic workout).
Flex 2 is interesting because it is not only very thin and practical but is the first activity tracker that is water-resistant, making it perfect for swimmers and hikers that tend to get wet.

It also records your pool sessions with metrics and duration of your laps. It has a removable band so you can choose the desired colour, but no display (only little light indications on the tracker). With the price of $99.95, buy Flex 2 if you love swimming.
Fitbit Blaze
Blaze is a mix between a smartwatch and a fitness tracker. Quite large, it gives you all the information on your movements, heart rate and workouts on the wrist, along with offering the standard smartphone notifications of a smartwatch.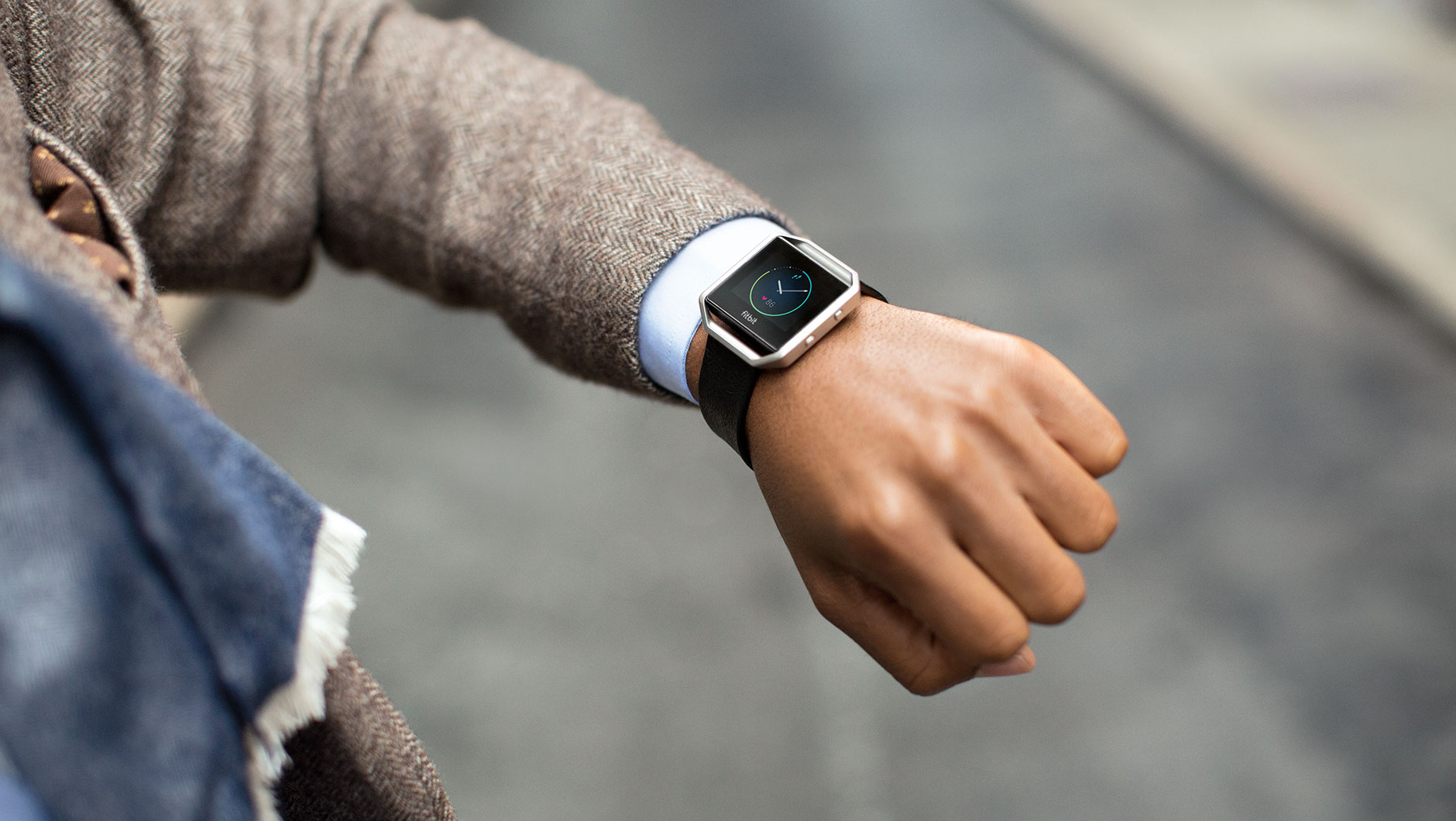 It is great for people who workout a lot as well as runners and cyclists as it uses your smartphone for GPS data. It offers multi-sport tracking, GPS along with activity and sleep monitoring. Starting at $ 195.55, it is a bit more pricey than the other models.
As Blaze is quite robust, it's perfect for adventurers who want to track their activities on the spot and analyse stats on the go.
Fitbit Surge
With the starting price of $249.95, Surge is the most expensive Fitbit activity tracker because it is the ultimate activity tracker. Offering features as GPS tracking, heart rate monitor, all-day activity tracker (by tracking steps, distance, calories burned, stairs climbed, active minutes of the day) and multi-sport smart track that understands different types of workout makes Surge a must have for any serious sports enthusiast.

Available in black, orange and blue, it offers a lovely sleek design and a long battery life (up to 7 days and GPS battery up to 10 hours). It also has all the necessary features of a smartwatch and music. It is perfect for very active people who want a high-quality activity tracker with a wide array of features and functions.