Best Smartwatch 2017
Stop press: Article was written before the Samsung Gear S3 and iWatch 2 release. 
As much as smartphones have evolved into an essential necessity, they are often times a distraction that gets in the way of our living. Am sure you don't like having a big glowing rectangle plastered in front of your face all the time! Asides from being bulky, they also feel like a constant reminder of all you want to forget such as pending business deals, strict routines you have to stick to and so much more. The smartwatch takes into account your ever-blossoming digital life and puts it all together in a neat and stylish package. From here, you get to access an array of your smartphone's native apps while sprucing your fashion sense.
No matter your choice of a smartphone, there are many smartwatch models to choose from. Based on rigorous performance, battery life tests and customer reviews here are the best smartwatches in 2016 you should sample.
With its fresh nylon straps, the Apple watch delivers convenience through instant iPhone notifications such as mail and messaging. Factor in the Find My iPhone App' and you have a sure winner! You no longer have to ask a friend to call you as this app instantly locates your misplaced phone. If you happen to travel a lot, checking in for a flight is made easier through the wrist-mounted QR code as you move through security. While on the go, this smartwatch will keep track of the number of calories burned as well as steps were taken; though not the most comprehensive in fitness tracking, it's never wrong on the metrics.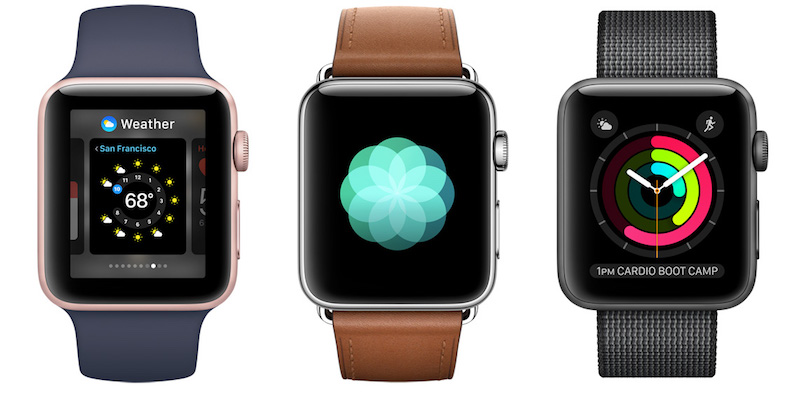 Why buy Apple Watch?
It's simply a mini version of your iPhone; anything you do on your iPhone can be replicated on this smartwatch. For instance receiving calls, summoning Siri and accessing emails instantly. You get to choose between the 38mm watch or the bigger 42mm; most people go for the latter since it has a longer battery life and bigger touchscreen. The various custom watch faces are designed solely by Apple and further complemented through the pressure-sensitive-force-touch touchscreen.
Throw in apps such as Uber car-hailing service app and Apple Pay and the deal doesn't get any sweeter.
So far, it qualifies as the best smartwatch from Samsung. Its round design is definitely smarter and its sharp look has been rounded off with an innovative rotating bezel. Clearly, Samsung has taken note of previous failures to put together a wearable and comfortable watch. It's updated Tizen OS has perfectly been tuned for a smartwatch and easily boasts of the best smartwatch interface across the board. Though lacking in apps, Tizen is a platform with lots of potentials and works seamlessly with the ingenious tactile rotating bezel.

Display
Its 1.2-inch diameter sAMOLED touchscreen may be smaller than those of its competitors but don't let this fool you; while using it, you will hardly feel restricted by the touchscreen size. To compensate for this, Samsung Gear S2 has an extremely high resolution of 360×360 pixels with a 302ppi pixel density making it the sharpest screen yet. For smartwatches, circular displays always tend to be more aesthetically appealing as they evoke the traditional analogue feel.
Sony Smartwatch 3
While using it moderately, it's battery life can extend to two days, a fete many smartwatches don't achieve. With a built-in GPS, it is possible to monitor your steps and calories metrics without necessarily having your phone around; this places it in the realm of fitness watches. Its square shape is designed to fit ideally in an average-sized wrist and gives it a sturdy feeling. A bit of a shocker, though, it runs Android ware since Sony is yet to perfect its own system. Having a 512MB RAM as well as a 1.2GHz quad-core processor sets it apart from all other smartwatches as a fully-functioning fitness utility.

Display
Having a transflective display of 320×320, its 1.6-inch screen has a similar resolution to the G watch R, providing crisp and clear notifications. However, the images and texts are slightly less sharp than those on a 1080p smart device. It's transflective capability makes it relatively easier to read even under the glare of sunlight. Its Auto mode regulates brightness as you transition from indoors to outdoors, all the while ensuring it is visible enough for you to read. It lights up brighter whenever you raise your wrist too.
This smartwatch is all about class and making sure you stand out. What's more? It runs on Android wear, the undoubtedly most popular smartphone platform. Its entire body is made of grade II titanium, a rarity in smartwatches. It is also the first smartwatch that utilises the new Atom Processer by Intel in wearable versions. Clocking in at 1.6GHz, this watch features a 1GB RAM operating on a powerful 410mAh battery. Measuring 1.5 inches in diameter, it is among the biggest circular smartwatches displays.

Visual aesthetics
While designing it, Tag wanted to project a mechanical watch face. They achieved this through its transflective LCD panel which accords it a dull matt appearance. As a result, the screen is neither sharp nor vibrant. When placed alongside other high-end smartwatches, its lack of acute display seems clearly lacking. When out in the sun, it does not require a backlight to make it visible, a fact that has endeared it to outdoor lovers. It's resolution is at 360×360 with a 240ppi pixel density. Its ambient screen mode is always turned on, making it dim after several seconds of idling; even then, time will be displayed through a minimised interface.
As part of 3rd generation Android wearable devices, the Huawei watch is made from a selection of premium materials. It works perfectly well with Android 4.3+ smartphones. Amazingly, it can also work iOS 8.2+ devices. As far as features go, this watch is laden with 512MB RAM, it operates on a 1.2 GHz Qualcomm Snapdragon 400 CPU platform and has an internal storage of 4GB. All these are powered by its 300mAh battery.
Display
It's fully circular display measures 1.4 inches in diameter and is AMOLED. It resolution, to say the least, is impeccable at 400×400 pixels with 286ppi pixels density and bears striking resonance with that of the Apple watch. When contrasting it to other Android watches, the extra pixels make a lot of difference as it is evidently clearer and sharper. Its circular shape makes it possible for users to apply watch faces without denting the design. It has 5 adjustable brightness levels for any occasion whether indoors or outdoors. When the sun is too bright, there's an option of boosting its brightness temporarily using Brightness Boost.
Up to now, Pebble Time holds down the crown as the most funded Kickstarter; the announcement might have been controversial then. In total, it garnered an astounding $20 million pledge. This appeared to be a rallying call for the anti-Apple watch enthusiasts. Its most attractive quality was its low retail price as well as the ability to operate across major platforms. Retailing at approximately $199, it endears itself to many people.
Visual aesthetics
Unlike its predecessors, Pebble Time has drawn many due to its new e-paper display that's always on. The new screen supports 64 colours and gives it a retro smartwatch feel just by looking at it. At a mere 1.25 inches, the screen uses a minimal battery and is visible under moderate sunlight without straining. Though it has an ambient light sensor, it is hard to see any changes since its brightness is relatively low throughout. Though its vibrancy cannot be likened to Android watches and the Apple watch, it compensates for this by being on always without sucking the battery dry. In response to the customer review, the developers have added another level of brightness known as blinding' which makes it even more visible.
Apart from the conventional feature, this smartwatch is designed with an accelerometer and barometer inside it; these, combined with its heart rate monitor on its back, make it a perfect fit when out in the wild. If submerged for a meter in still tap-water for not more than 30 minutes, the watch remains operation due to its IP67 rating. Its compatibility extends to all Android 4.3+ devices.
Battery life and performance
With a 410mAh battery, this smartwatch is capable of supporting emails and notifications as well as downloading apps for two days on a single charge. As per its design, it requires a magnetic charging cradle familiar to it and similar to that of the G Watch R. Its battery life easily outdoes that of the Apple Watch.
Its performance needs a little twitching though as the smartwatch doesn't handle the switching of different faces and apps at first. There are a number of crushes but as the developers put it, they're on track to ironing these minor inconsistencies out before releasing the next update.
As far as looks go, the Moto 360 hasn't left anything to chance. It is definitely a sharp-looking watch and a fashion statement. With its cognac leather strap, it commands attention and this is further complemented by its optional blue LED lighting. The micro knurl is yet another optional feature in this smartwatch designed to make it even for appealing. Though there is both men's and women's version of it, most people tend to go for the women's version owing to the looks.
Display
At 1.56 inches in diameter, the 46mm smartwatch boasts of 360×330 pixels and a 233ppi pixel density. The 42mm version of the same watch, on the other hand, has a 1.37-inch display and a slightly lower resolution of 360×325 pixels with a 263ppi pixel density. The newer version of this smartwatch has sharper and clearer images that are void of pixelation.
Just as the name suggests, the watch offers more steel and a nicer strap with longer stamina. It's low-key color screen rarely strains the battery and in general, it appears slimmer when compared to most Android wear watches. Just like Pebble time, it was funded through Kickstarter, making it appeal to many people.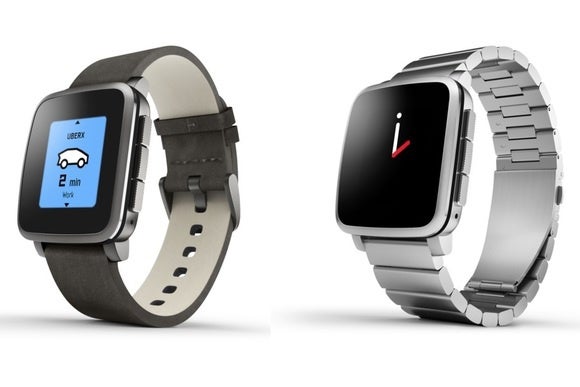 Design and comfort
When viewed from the front, there' no telling the difference between Pebble Steel Time and standard Time. The screen sizes are similar but for Pebble, the Gorilla Glass takes up most of the space. Just like Pebble time, the frame takes up a considerable portion of the screen and the steel is thus more visible with this version. When on the wrist, it feels all the cooler and weightier just a traditional analogue wearable. The more expensive version of this smartwatch has a leather strap as compared to the silicone strap with is found in cheaper versions. As is the norm with leather products, the former version has a more roughened finish, making it likeable to any gender.
As is the norm with Pebble, this smartwatch has been designed with the prime objective of lasting longer in between charges. This is evident through its dimmer display coupled with the custom Pebble design. Unlike the other models, however, it is among the most innocuous and easy on the eyes; it has no hint of a nerdy look. At a first glance, you would never guess it was smart as it has all the makings of the traditional analogue watch.
Comfort
On the wrist, Pebble Time Round is extremely light making it the most comfortable smartwatch; you will hardly notice you're wearing it! It back does not have the common ergonomic curve, a design feature that makes its rest on the wrist naturally. Even though Pebble models are associated with slim frames, smaller hardware, and smaller batteries, this model takes all these a notch lower.
Don't let the plastic look fool you; on the contrary, its straps are made of extremely smooth and soft leather. Its faces are only 38mm but big enough to serve your basic needs. The straps can vary from 20mm to 14mm to accommodate every gender. It's however not possible to switch between the two strap sizes.
Finally
As far as smartwatches go, there are many options to choose from. I've just highlighted the top smartwatches in 2016 with the main difference being functionality and pricing. An expensive smartwatch doesn't necessarily translate into a great buy for you. Much of the distinguishing factors lie in the aesthetic beauty, comfort and the ability to operate across the major smartphone platforms. For now, you have the necessary knowledge to make the right choice, cheers!