Casio Smartwatch WSD-F10 review
Casio has just introduced its G Shock look smartwatch named WSD-F10 which is kind of an odd model name, unlike the fancy giving names such as iwatch, pebble watch or the other normally giving names to Smartwatch that runs Android Wear, but Casio watches typically is not normal and the F10 is not a normal Smartwatch, we spent couple of weeks in California testing this smartwatch from Casio and this is our review.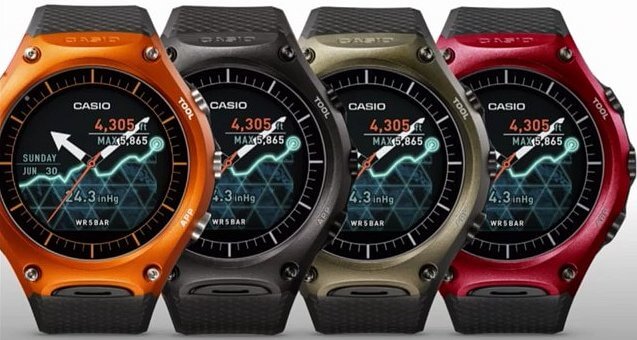 The looks…
What First attracted us to this gadget is just how distinctive it is from the typical polished and petite android smart watches, first of all, it's absolutely tremendous and by that we actually mean 60 millimetres across and 15 millimetres thick, it's not quite as heavy as it looks with only 93 grammes' weight.
Casio took a lot of it's G-Shock line features of customary watches, the bezels are enormous and so are the buttons, three of them stuff the right Edge while a magnetic charging port on the left side alongside the barometric pressure sensor, this is the first occasion we've used a watch with one of those.
The casing is surrounded by a generic polyurethane wristband and upheld by a stainless steel plate that claims 5 bars of water resistance. Casio says it's useful for about fifty meters of depth, that's way deeper than the one meter asserted by different smartwatches maker's claims,
Utility…
Unfortunately, we did not dive test with it, however, we used it while ocean swims in California and salt water didn't affect it by any means, still cleaned it after with fresh water to be on the safe side.
The smart watch is also acted rugged and rough as more like some sturdy cell phones ensured and certified for everything from shock and solar radiation to ice storms and the outdoorsy optimisations don't stop there.
The tool button is our most loved on this smart watch ,It gives you direct access to the onboard sensors so you can see your altitude above sea level to track your hike up a mountain or see if the storm is about to roll in while keeping an eye on atmospheric pressure direct measurements taken by the watch with no data connection required, there's also a readout for the on board Compass time clock if you've got a nearby Harbor, sunrise and sunset time tables and the obligatory activity tracker did up in a nice unified aesthetic.
Apps…
Casio likewise included few watch faces that will constantly display data, so you don't have to go back and forth between applications. furthermore, if you download the moment Center app to your Android phone you can enable the watch to notify you when the Tide is about to come in or go out , caution you about a sudden drop in Mercury or get you a custom reminder when you approach a specific location, of course, you can also download any Android wear apps you want and just assign them to any button for a speedy launch.
Display…
Definitely the smartest thing about this smartwatch is how the display is designed.there's actually two LCD's stack together the usual color TFT panel sits underneath the monochrome segment to display on top, so when you're not viable using the watch the main display goes to sleep and more power-efficient black and white one takes over which is much easier to see in bright light.
It's one of those features that we wished every smartwatch had, and if you run low on battery but still want to a clock you can trigger timepiece mode which shuts down all the Android Wear stuff and just displays the time and date on the top of LCD.
But…
Yet the Casio still fall short in some areas, you would expect a smartwatch designed for the outdoors to pack GPS, but unfortunately this is not the case if you're not near Wi-Fi hotspot you will need to be connected to your cell phone in order for the watch to determine location.
Casio may have been attempting  to save on power consumption that Omission since this watch is no endurance Champion either, for me it delivered the max of the day and a half between charges that's in line with what I'm going to anticipate from other smart watches, considering how big is this watch, you would expect it to last for a week, it's particularly targeting the sort of individual how always mobile and won't have the capacity to connect to each night.
Additionally, the display is pretty small comparing to the casing, it's likewise quite undersaturated and despite the flat tire, there's no ambient light sensor to automatically adjust brightness.
Final words…
Finally, there's no heart rate sensor either, not a huge thing of course ,but rather somewhat odd considering the target audience.If you can live with those downsides ,you're looking at a minimum of $499 for a new device that makes it one of the most costly Android Wear watches around.
Nevertheless, if you are looking for a Rugged Smartwatch your options are pretty limited and the Casio G shock style smartwatch does tick a lot of boxes within the android framework ,Plus I have to say it again every Smartwatch should have this dual display option because it's amazing!
So let's recap…
HIGHS
Robust outdoor features
Rugged design
Clever dual-layer LCD
Confidently runs Android Wear
Smart three-button design
LOWS
Too bulky to forget you're wearing
Battery life isn't enough for outdoor wear
No GPS
Fickle proprietary charging cable
Expensive
Circular screen has one flat edge
Hope we were useful, Please lets us know what you think of this review and which other gadgets you want us to write about. Thanks…