DITTO Review: Deaf & Hard of Hearing Friendly Technology For Your iPhone/Android.
With technology being the most dynamic industry of the 21st century, it is wonderful to see wearables hearing aids and gadget that offer support and make life easier for people with different kinds of limitation.
We have already learned that in technology size doesn't matter, so there is a large variety of very small but extremely functional wearables available on the market today, Ditto by Simple Matters being one of them.
Even though deaf and heard of hearing people have benefited a lot from the use of smartphones and smartwatches, there is no reason the use of technology cannot be even more accessible and easier to use.
One of the ways to achieve that if you are deaf, hard of hearing and/or in a need of a hearing aids is to start using a tiny pebble-like gadget called Ditto, brought to us by Simple Matters.
We have already brought you a general overview of Ditto, however, we would like to be more precise in helping you understand the features and functionality of the device, so we are presenting the full review of the product.
Who is Ditto created for?
Ditto is a small wearable gadget created for persons in need of hearing aids (deaf and head of hearing persons) in order to accompany and amplify the use of the smartphone.
This clip-on little gadget looks like a pebble and is worn on a person's wrist or clothes, close to the skin to eliminate the need to constantly check your phone in case you missed the vibration.
It is practically a vibrating alert notification you feel when someone is texting or emailing you, without having your smartphone in hand.
Ditto should not be confused with a smartwatch as its primary function isn't to give you all the information straight away (it doesn't display content of messages), it only notifies the wearer that he should look at his smartphone. You can imagine it as an extended notification tool of the smartphone you are carrying in your jacket or bag.
Built and fell of Ditto.
Ditto is very light and practical, looks like a pebble and is slightly bigger than a coin. Oblong-shaped and very discreet, it comes in three different colours – white, black and clear.
It also comes with a silicone band so it can be worn on the wrist, or attached to clothes, quite close to the skin as it sends vibrating signals for each message, email, reminder etc.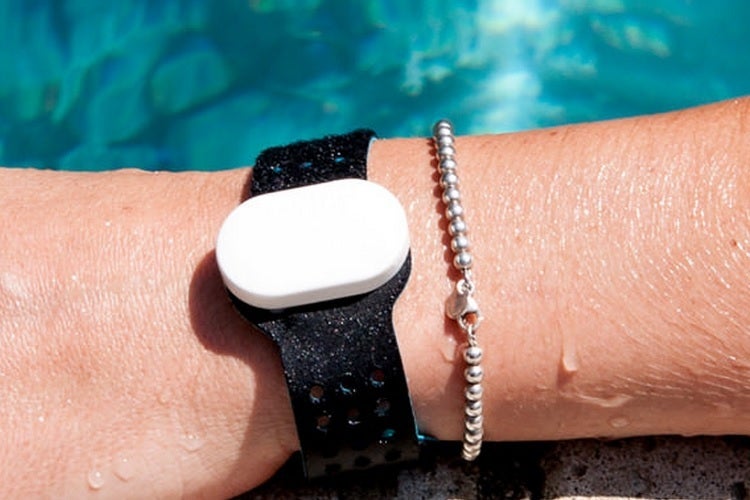 As the vibration is adjusted to the user by a variety of personalization options, its strength is quite conservative, which is very important, as you don't want to be startled and distracted by strong vibration directly on your skin. Apart from being easily worn, it is also waterproof so you don't have to worry if it gets accidentally wet.
Ditto Connectivity and Features
This little gadget is easily connected to Android/iPhone smartphone via Bluetooth and creates a way for the user to "feel the phone" from 50 to 100 feet away. If you are using an iPhone, it has to be iPhone 5 or higher, whereas for Android devices the operating system requires Android 4.4 or higher.
Once connected, you use a free app to setup Ditto to your convenience. As one would change the ringtones, the app allows you to setup the style, duration and patterns of vibration for different types of notifications.
For people who use hearing aids and are in constant stress of checking their phone for important messages, the personalised vibration of Ditto is extremely practical as you can setup one pattern and/or intensity for message notifications, another for emails, yet another for Facebook Messenger to know the difference straight away.
The app is easy to use, not complicated, and offers a wide range of available notifications – messages, emails, phone calls, reminders, calendar alerts and third party apps such as Facebook Messenger and other social media updates. It can also be used as an alarm for deaf and hard of hearing consumers.
As with any piece of wearable technology, it is important to update the firmware to make sure you are getting the latest version of the software for optimal use.
Battery life and price.
Ditto has a replaceable battery that lasts up to a couple months, which is excellent for a device that uses quite a lot of power due to the quantity of vibration.
This deaf and hard of hearing friendly hearing aids gadget is very affordable, available at the price of $ 40. So, even if you don't want to have an extra cost (since you already paid for the smartphone), at this price, it is a great investment.
As Simple Matters is a company dedicated to using technology to provide solutions for everyday problems, Ditto is not only meant for deaf and hard of hearing users.
If you are a type of person who likes to be active around the yard or love reading in quiet on your terrace without taking your smartphone with you, Ditto is the perfect compromise – you get the notification straight away and can choose if you wish to go look at your phone or continue reading to the next chapter.
As a very innovative approach to technology use among deaf and hard of hearing persons, Ditto puts an emphasis on easier accessibility and use of smartphones as hearing aids, at the same time allowing the user to distance himself from the phone without having to worry about missed messages.
The simplicity and practicality are definitively the pros of this gadget as, once setup, there is no need to fiddle about or change settings, so it gives you the time to concentrate on your daily activities without being distracted or in need of constant phone checking. With a wide range of options and features for notifications and the possibility to setup vibrating patterns, Ditto provides the service of your own small personal assistant, no matter where your phone is.
Also, as we mentioned personalised vibrating patterns in this review, music for people with hearing loss comes to mind. As a deaf and hard of hearing persons listen to music through gentle vibrations, you might want to check out another excellent wearable that creates a musical experience for fully or partially deaf people.