Garmin's VIRB 360 Camera
Garmin is a company which is mainly famous for their navigation devices. However recently, they have come up with their dual lens 360 Degree camera, called the Garmin VIRB 360. The camera is quite durable and you can easily take it with you on your adventure trip. You can also use it underwater but only up to 10 meters.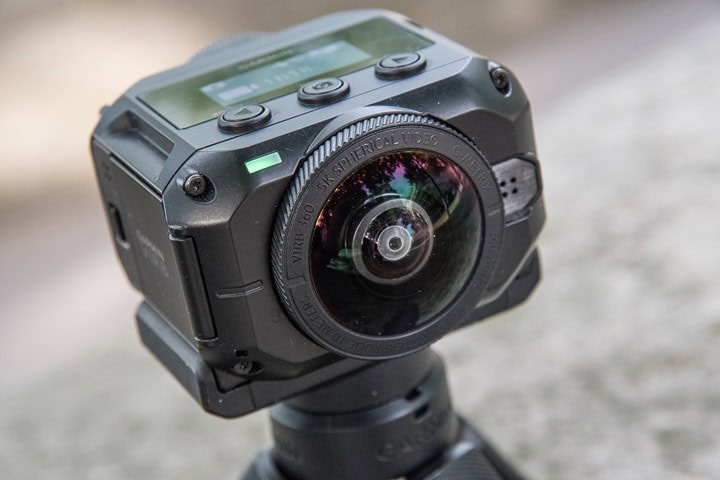 VIRB 360 Display
Generally, in Dual-lens camera, you won't find any screen due to a shortage of space. But Garmin has done really well to fit a small LCD screen towards the top which displays the recording time and the remaining battery life.
VIRB 360 Operation
It is incredibly easy to operate the Garmin VIRB. There is a one touch switch which can start recording immediately. Apart from that, there are voice commands as well, which is extremely helpful in cases of adventure sports like kayaking or skydiving. However, for the tech savvy people, there are some advanced features as well. It has a Pro Mode where you can modify all the settings individually. There is also an Independent mode, which allows operating the back and front camera separately. For beginners, Auto Mode is definitely the best.

VIRB 360 Sound
It comes with 4 built in microphones which are capable of picking up even the slightest of noises. However, because of 4 microphones, it sometimes picks up wind noises as well. Overall, the sound is extremely clear.
VIRB 360 Video Quality
Garmin VIRB is capable of shooting at an incredible 5.7 K resolution. The colours are extremely accurate and the straight lines are also quite clear. It is also capable of shooting some high-quality stills.
Final Verdict
Overall, the Garmin VR 360 is a very sturdy camera which is capable of shooting at an extremely high resolution. It's easy to use functions also makes it more appealing. It also comes with an app which makes it easier to share the videos.