Samsung Gear S3 Review
Following the success of Gear S2 smartwatch, tech giant Samsung now offers two new stylish wearables by featuring Gear S3 Classic and Gear S3 Frontier. These two latest additions to the android smartwatch market are a perfect mix of form and function, offering practicality and numerous features.
One being slightly more adventurous while the other remains classical, both S3 Classic and S3 Frontier are beautifully designed and intuitive pieces of personal wearable technology. Apart from the design, differences are quite subtle, as shown in this comparison review.
How to get Get Samsung's Smartwatch working with iPhone.
Samsung Gear S3 Classic and S3 Frontier design
At first glance, the two models seem almost the same. They both measure 46.1 x 49.1 x 12.9 mm, with Classic being just slightly lighter weighing at 57 g compared to the Frontier's 62 g (both without the band).
The obvious difference between the watches is style. While both are built from stainless steel, Frontier features a design of a sports watch as it is quite rugged with large, flat, textured buttons, and Classic is a lovely example of minimalism and elegance, with buttons on top and bottom, similar to regular watches.
Frontier comes with a 22 mm rubber band, unlike Classic that has a 22 mm leather strap to further accentuate its businesslike design. The great advantage is that any 22 mm standard band can be utilised on both watches.
Samsung will offer a wide choice of differently styled straps and bands to buy separately, but you can also use standard 22 mm bands that do not come from Samsung.
As Gear S3 is quite large in both its variations, the question is whether the company intentionally targeted adult male consumers, since the bulky design is not really the best fit for smaller women's wrists.
Samsung Gear S3 Classic and S3 Frontier specs
From a technical standpoint, Samsung Gear S3 Classic and Frontier models are practically identical. They both feature a 1.3 inch circular Super AMOLED display with a resolution of 360 x 360 pixels (278 ppi) and Gorilla Glass SR+ coating.
Full Colour Always on Display is activated in both watches, with up to 16 million colours display (Gear S2 only featured eight million).
The two smartwatches are armed with a dual-core 1.0 GHz processor, 768 MB RAM and 4 GB internal storage. The only difference is that S3 Frontier is also available in a version equipped with LTE/3G for on-the-go connectivity (depending on the territory and apparently will not be available in Europe at this point).
Built-in microphone and speaker enable you to make calls by speaking directly into the watch. Both smartwatch models are controlled by two buttons, touchscreen and a rotational bezel which moves very smoothly and is comfortable to use.
Turning it clockwise shows you all the notifications while spinning in the opposite direction scrolls through all the widgets you added.
Samsung Gear S3 Classic and S3 Frontier features
Along with classical sensors for activity tracking like an accelerometer, heart rate monitor, barometer and gyro, Gear S3 models are both equipped with messaging features (SMS, Email, IM) and a photo viewer, voice dial, voice commands and MP3/MP4/AAAC/WAV player.
The built-in GPS sensor tracks activities such as cycling and running, along with a fitness tracking feature that warns you if you have been inactive too long.
The operating system is very well adapted for use and runs smoothly offering not only activity tracking software as S Health, but a wide array of components like weather, reminders, alarm, calendar, contacts, phone dialer, messaging etc. Working on a Tizen-Based Wearable Platform (2.3.2 version), a lot of apps is available to download and install.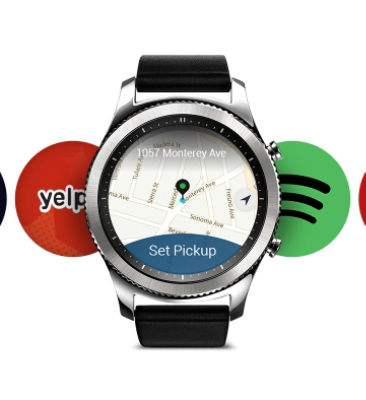 By using Samsung Pay on a non-Samsung Android phone, you can even use the S3 Classic and S3 Frontier as a credit card replacement and pay for goods and services without connecting to a phone directly.
New addition to the Gear S3 is automatic sleep tracking and physical activity tracking that synchronises with the S Health app on your phone. There is also a preloaded Flipboard app for checking news headlines.
Both smartwatches feature an altimeter and a barometer, along with an SOS feature to call emergency services. The interface is generally very functional, highly adjustable and user-friendly. It also shows excellent performance.
Samsung Gear S3 Classic and S3 Frontier battery and durability
Both S3 Classic and S3 Frontier have a 380mAh capacity battery that is expected to last three to four days of normal use per one charge. The battery capacity is a big step ahead in comparison with the previous Gear S2 model.
The higher functionality and a greater quantity of apps may bring the battery life down, depending on your usage of available features. As both models are built from stainless steel and have a well-protected display, they are quite resistant to everyday use and not easy to scratch.
They are also both IP68-certified for water and dust resistance which means it can be submerged in water to up to 1.5 meters for up to 30 minutes.
Samsung has apparently tested both S3 Classic and S3 Frontier by putting them through a series of military-level durability tests to withstand low and high temperatures.
With the price being set at $349 in the US and €399 in Europe, Samsung Gear S3 Classic and S3 Frontier are not the cheapest of smartwatches available on the market.
They are, however, the best high-quality fit for android users due to their easy and highly functioning connection. Both models are also a big step ahead compared to the previous Gear S2 smartwatch as they offer more features along with an updated fitness tracker and improved S Health app.
The display is amazing, battery life good which makes Samsung Gear S3 Classic and S3 Frontier a good buy.
Deciding which model you would prefer to buy is not so much a matter of functionality and features (as these are almost identical), but more of a style choice since S3 Classic features a timeless design with elegant and businesslike elements while S3 Frontier is the best fit for active and adventurous users.
Apart from the 5 g weight difference, features and specs are the same so the only thing you have to decide is which style represents the real you.