Sgnl Smartwatch fingertip magic!
Have you ever imagined taking phone calls using your fingertips? The Sgnl smartwatch makes this a reality. A very successful Kickstarter project, this smartwatch attached to a cue-looking strap is an entirely different invention allows you to operate with absolute discreetness.
How it works
Once you receive a phone call, simply bring your wrist up to your ear and press either of your fingertips to the ear; the ingenious Sgnl smartwatch transfers all your calls to its strap through Bluetooth. Apart from looking stylish, the new-generation smartwatch uses bone-conduction actuator technology in transmitting vibrations arising from it through your bones and finally to your fingertips.
To further amplify the algorithm, the Sgnl smartwatch creates a sound within your ear making clarity impeccable. The microphone through which you speak is located in the wristband.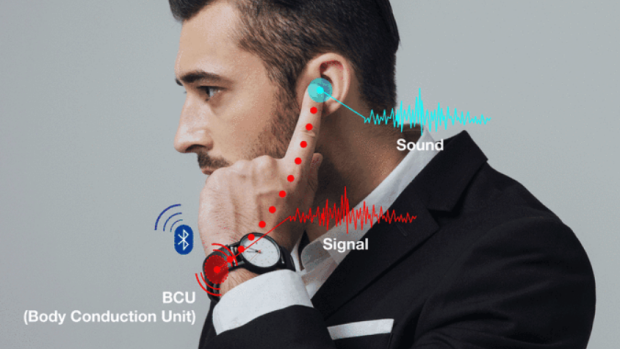 Compatibility
As long as your smartphone is running on either Android 4.4+ or iOS8+, you are good to go. Interestingly, it is also possible to use it with traditional watches all thanks to its lag adapter. Used alongside your regular watch, it will be converted into a fitness tracker with new features such as vibrating when receiving notifications. Fitness tracking is accomplished through an accelerometer.
You can wear it as a standalone band
When used this way, the features will reduce but owe to its IP56 certification, it is both sweat and water resistant. Though it was not all that stylish when it was first released in January, it now looks entirely different and definitely qualifies as a fashion accessory. It is 24mm thick and a bit wider than standard straps.
Battery life
The Sgnl smartwatch has a talk time of four hours; the vibrations drain it pretty quickly. When in standby mode, however, the battery life drastically increases to 7 days. Recharging it is very convenient as it takes only an hour to juice up through its micro USB.
Available in 3 colours
Sgnl is available in white, blue and black colours which suit most, if not all, people's tastes. Due to ship in February next year, this Kickstarter project is already soaring high with $375,000 raised; it has over 2000 backers. When ready for the market, expect the Sgnl smartwatch to set you back $139, that is if you won't be among the first 500 to buy it; they get a $10 discount. Don't be left out!