Smart Anti-Snoring Gadget
Scientifically, snoring is brought about by bad sleeping postures or anomalies in the respiratory system. Snore circle is a revolutionary wearable that wards off snoring in a compact, smart and absolutely comfortable way!
Snore Circle works via bone conduction
By identifying snoring patterns using bone conduction, this ingenious wearable relies on sound technologies to decipher requisite information. It then intervenes physically through micro-vibration as well as micro sounds through a range of 54 levels. Ultimately, this will stop any form of snoring and ensure that the user gets the best night's sleep.
The Benefits
Apart from it being smart and utilizing advanced sound recognition and bone conduction technology designed to adapt to a single user, Snore circle is an affordable and worthwhile product that that fosters snore-less sleep all night long; by being an early supporter of this intrinsic project, you will achieve this at only a fraction of the price.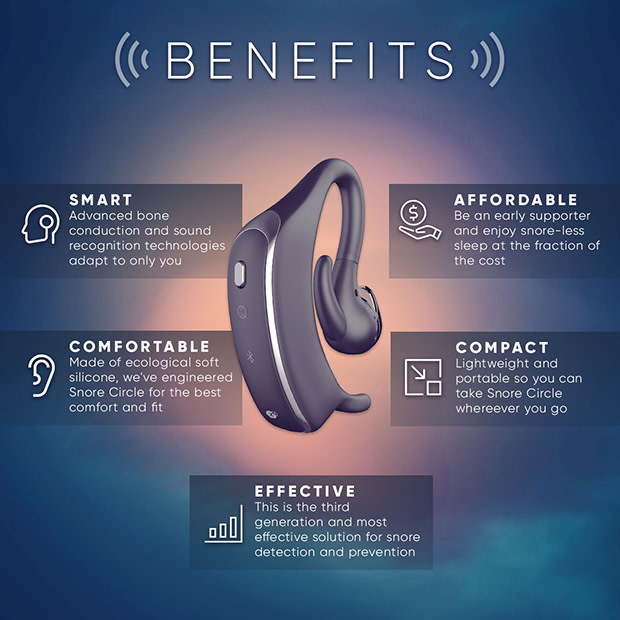 Comfort
Snoring causes enough discomfort as is; this wearable offers you a way out in that it is made with ecological and soft silicone. This material is not only extremely comfortable but an easy fit that goes for virtually all sizes.
Being compact and lightweight, you will be able to tag Snore circle along without the fear of it sticking out like a sore thumb. It's currently in its third generation and often deemed as the best snoring detector and prevented the world over!
How to use it
Simply place Snore Circle on either of your ears and power it on. As long as it is turned on, it will automatically enter its preset working mode, ensuring you get the best sleep you've had in a long time.
By tightening the throat muscles which consequently expands the airway, snoring will become a thing of the past for you. When your snoring stops, the wearable device will revert to its dormant state automatically.
Credible statistics show that more than a billion people worldwide suffer from snoring, a vice which can now be eliminated using bone conduction technology. All the data gathered by Snore Circle will be sent to its companion app for further analysis and display. What do you think about it? Kindly let us know in our comment section below.